Sound the alarm.  I may as well be wearing button fly z cavariccis.
According to a couple of sources and my quick Google search extensive research, I have come to the following conclusion: apparently I have…MOM hair. MOM HAIR.  Scratching your head?  Take a gander:
OMGGGG, you guys!  Why… WHY would I ever want to equate myself with one of these disgusting sub creatures we call "MOM"?   The shame!
Oh wait. I am a mom. Repeat: I am a mom.
When did the fact that I bore children suddenly have such a negative impact on hair anyway?  More importantly, when did short hair become unfairly labeled as lame?  Do you know what kind of balls it takes to chop off all of your hair?  Not to mention the general upkeep. Haircuts every six weeks people!
But seriously. I have had short hair in some shape or form my entire adult life because you see, I have a long(ish) face. It's flattering, okaaaaay?  I did the pixie thing for years (after failing miserably with my tired repeat efforts of 'The Rachel'). With time, it gradually grew to shoulder length. After having kids, I don't know what happened aside from the fact that I was too apathetic, poor, and tired to keep anything going.  Two kids later and a *little* room to breathe, I have gotten back to my roots (giggle) and taken back my hair identity!! :::high five:::  However, that does not mean I am safe from "mom hair" either.
Exhibit A: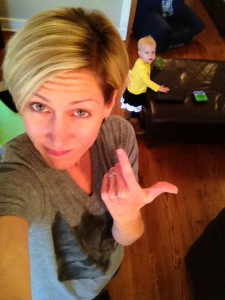 I could have easily (ok not so easily)  taken a shower, taken my time blowing it out and flat ironing, double filtered and then instagrammed to show you how nice it COULD look on social media, but no. I am rocking the TRUE "mom hair": greasy, not washed, need my roots done, M-O-M hair (and the kid in the background doesn't really help matters).
Ladies with longer hair. You are not immune to this phenomenon.  Next time you run out of the house with wet hair, thrown in a half-assed pony, or wear a ball cap. Guess what: MOM hair.  Ouchie. I know that stings some.
Now, it *could* be argued that I am somewhat of a lame individual. There are literally hundreds of reasons for that. The length of my hair though? NOT one of them thank you very much. I am also not telling you to embrace your mom hair. Yes, flaunt that rat's nest! Own it, giiiiiiiirl!  Good Lord, no. I'm just saying that it happens. To all of us. And why shouldn't it? We're damn busy!
Lastly, I AM telling the internets to back off my short hair. If you want something to pick on, pick on something that is begging for it… like the tankini!